Warning: This is more of a long, personal story, so if you're interested in this, great. If not, keep moving.
If someone were to tell me two years ago that I would be a part of a network of over 15 people and a cohost of one of the first podcasts at said network, I would say that you are nuts. The thing is though, I do not know where I would be without it. DJ and I have talked a little bit on the Gambling Feud Podcast on how we came on to the scene in the Kota Sports Gambling Network. I wanted to really dive into how the network came to be for my point of view, as well as share my appreciation for all of the members.
My cousin and co-host of the Gambling Feud podcast, DJ Loutsch, have always been close. He has the biggest heart, but also will put you in your place when needed. He is one of the closest people in my life, and in a few months, he will be a groomsman in my wedding. Growing up and even today, he and I would always talked sports. We grew up in a sports-oriented family, where sports were always the center of conversation. DJ and I went on separate paths in college, but we still would talk on occasion. The main points of conversation was often sports. In January of 2021, I came up with an idea that was inspired from Barstool Sports' Pick Central Twitter page. For those of you that don't know, they have various Barstool employees tweet out picks on the daily for various sports. The idea came to my head to start a Twitter page of DJ and I tweeting picks, keeping a record of how we do, and we see who wins every month. Thus, the Gambling Feud twitter page was born.
The Twitter page started out as family and friends who liked the page, and DJ and I are forever thankful for those individuals. We soon realized that we both wanted to interact with other gamblers on Twitter. We went and followed various sports gambling twitter pages and followed a bunch of people, including the Kota Sports Gambling Network. Pace asked if we would be interested in joining the network and putting on a sports betting podcast. In talking with various people and each other, DJ agreed and joined Pace and Brandon Russell at the network.
Gambling Feud began about a week later, and we are fortunate enough to have celebrated 60 episodes at the network. We are not even close to being done and are looking to do this podcast for a very long time. DJ and I quickly transitioned from being super shy behind the mic and nervous to very comfortable and enjoying the moments of being behind the mic. Our show has blessed us with having nearly every capper on the show. We have had some amazing guests, and will be looking to have on even more.
The greatest thing about the Network is just seeing how it has grown. The two guys aren't ones to take credit for their work, but the success that the network has had is majorly due to Pace and BRuss for their grind. They were producing podcasts three days a week and doing anything they can to get this thing from the ground up. They both welcomed DJ and I with open arms, and we were honored to be the second podcast at the Network. Pumba Cakes came on about a week later, and man, that guy is one that can make me laugh any time he wants. Plus, he is super knowledgeable in sports betting. Josh Campbell came on the scene first as Gambling Feud's first guest and a member of the network a week later. This is a guy that truly has not only become a fellow capper to me, but one guy that has become a good friend and someone I talk to on the daily. Then, let's not forget about Toast, the man who called out BRuss for his rough month, came on Gambling Feud to talk some smack, and then soon join the network. Toast is a top 5 funniest guy I know, and he never fails to make me smile when he gets on the show.
For several months, it was just the seven of us grinding and producing content. Dan the man came on next and joined to help with our blog game. He is unbelievably knowledgeable in just about every sport, and I have learned a ton for him since he has joined the network. We had a lot of sports covered at the network, but soccer was a sport we wanted to cover more. This caused us to add Corey Adair and Thomas Miller to the network to have them and Dan create the Gabacho Borracho Soccer Podcast. These are guys that know how to talk soccer. I had the opportunity to meet both of these guys at a casino in our hometown a couple of weeks ago, and they are two amazing guys, who I am thankful to have met.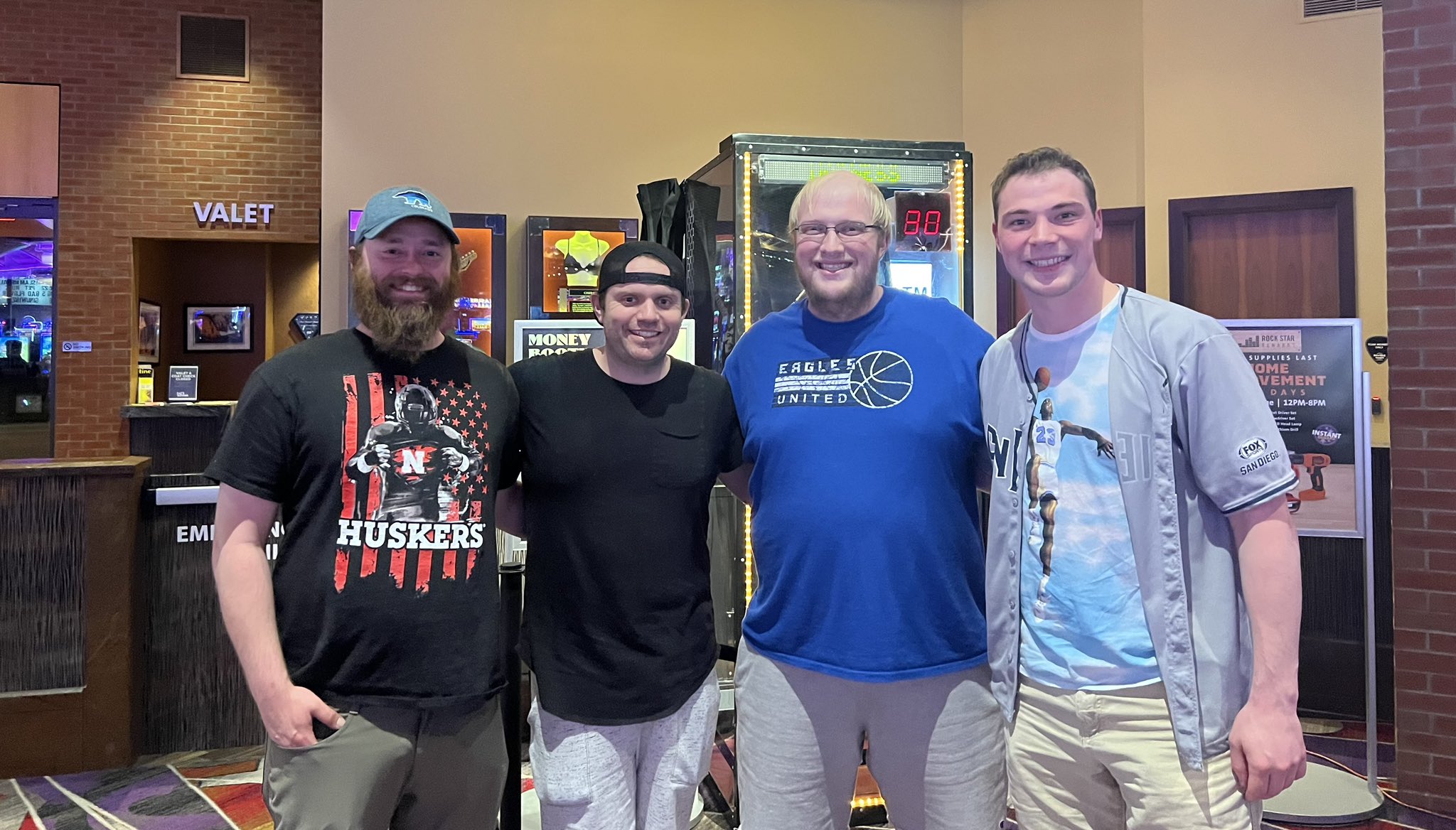 When I became a cheapie, one of my first follows was Potato Gobbler. Sincerely, he is the most positive individual I have ever met in my life, and his tweets are always so wholesome. He had been tweeting about college football plays on Twitter. After seeing that and getting him on Gambling Feud, he joined the network shortly after. Everyone was telling Pace that PG was a must get. The rest is history and he's been killing it at the network!
UFC is a sport I have always wanted to learn more about, and the addition of VFC next was HUGE for the network. This is such a chill and classy guy that I have had several content experiences with. He not only is knowledgeable in UFC, but he is the real Mr. Ice and is the best hockey capper out there!
Parlays are tough to hit, man, but DG Bets was the next capper to join the network and has shown us that he is the parlay king! DG could arguably be the best handicapper at the network, and I am not sure if many would disagree. If you are looking for parlays to give you some money, follow DG Bets on Twitter because you WILL win some money.
Recently, we have had three new cappers join the network: Big Game Hunter, Jake Hazen, and Beast Picks. Big Game Hunter is a guy who has had over 30 years of sports handicapping experience. He is INCREDIBLY knowledgeable, and he has a podcast at the network, the Ca$hing Ticket$ Podca$t, that is usually under 10 minutes and well worth the listen. Jake Hazen is going to be huge for the network on Tik Tok and has done phenomenal thus far. He will be on Gambling Feud soon, and I look forward to meeting him and getting to know him more. Finally, Beast Picks is a guy that I have been following a while and was SUPER pumped when he joined the network. He is incredibly chill and is going to be huge for our Tik Tok showing as well. Excited to see him grow at the network.
Okay… so that's everyone. What was the point of that whole long intro of every capper? To show how far the network has gone in a short time and how bright the future of the network is. This all boils down to our CEO Pace and our COO Brandon. Pace works his butt off every single day. He tweets for the network, he posts everyone's podcasts on Spotify and Apple Music. He is always searching for sponsors, and he is the face of the network. Every single person at the network would go to war for Pace. Brandon Russell is one of the coolest individuals I have ever gotten to know, and I want to meet him in person very soon. He is super funny and his knowledge of sports trivia never ceases to amaze me. His daily grind is also very inspiring.
This network took a chance on DJ and I, two cousins from Iowa who always wanted a podcast. I am forever grateful for that. Not only has this network brought me a group of people that have similar interests as me but also given me some really good friends who I can have deep conversations with. This network has given me confidence in public speaking and coming up with ideas on the fly that I never had before. Finally, this network has given me confidence in myself that I hadn't ever had. I love all of these guys, and I love all of you that follow the network.  I am not going anywhere and I am here to take this to the moon. Not often do you realize how lucky you are when you have something. I for one do understand how lucky I am that the Kota Sports Gambling Network caused a sports better to find his home.
Thank you Kota Cappers.